About the brand
Warranty Period
12 Month(s)
Select showroom to pickup
Enter store location
Pickup
2 Hour Collection Available at
---
LG 24000 BTU Air Conditioner Dual Cool STD Plus R32 Inverter With Wi-Fi
Regular Price Rs.420,990 Special Price Rs.393,990
Notice
The payment mode is about to switch to USD (US Dollars)
Please read our terms & conditions and proceed accordingly
Terms & Conditions
Locally issued cards will not be accepted as a valid payment mode.
International cards are not eligible for any easy payment schemes.
The pickup option is not available for payments made in USD.
Easy payment plans available upto 60 months
---
Terms & Conditions:
Free installation (Up to 5-meter piping from Indoor unit to Outdoor unit)
Additional meter will be charged
3 Free Services (within a Year)
The above design and specifications are subject to change without prior notice for product improvement
The value given in the table for noise level reflect in Anechoic Chamber
DUAL INVERTER COMPRESSOR™ WITH 10 YEAR WARRANTY
LG's Dual Inverter Compressor™ solves improper, ineffective and noisy problems, resulting in an air conditioner that cools faster, lasts longer, and runs quieter.
With the 10year warranty on the compressor, users can enjoy the benefits of LG air conditioner for a longer period of time. 
ENERGY SAVING
Inverter Compressor constantly adjusts a compressor's speed to maintain desired temperature levels. Moreover, Dual Inverter Compressor™ with power saving operation range frequency saves more energy than conventional compressor. 
FAST COOLING
LG air conditioner begins cooling the air fast using its high speed cooling range with Dual Inverter Compressor™, so it expels air farther and cool spaces faster.  
R32 Refrigerant
Efficient Green Refrigerant
Eco-friendly refrigerants that can prevent environmental pollution. R32 refrigerant is capable of producing high and green efficiency even with a small amount of refrigerant. 
Come home to comfort
Built-in Wi-Fi Smart Control
The LG ThinQ app lets you access and control your air conditioner with your smartphone* even when you're not at home.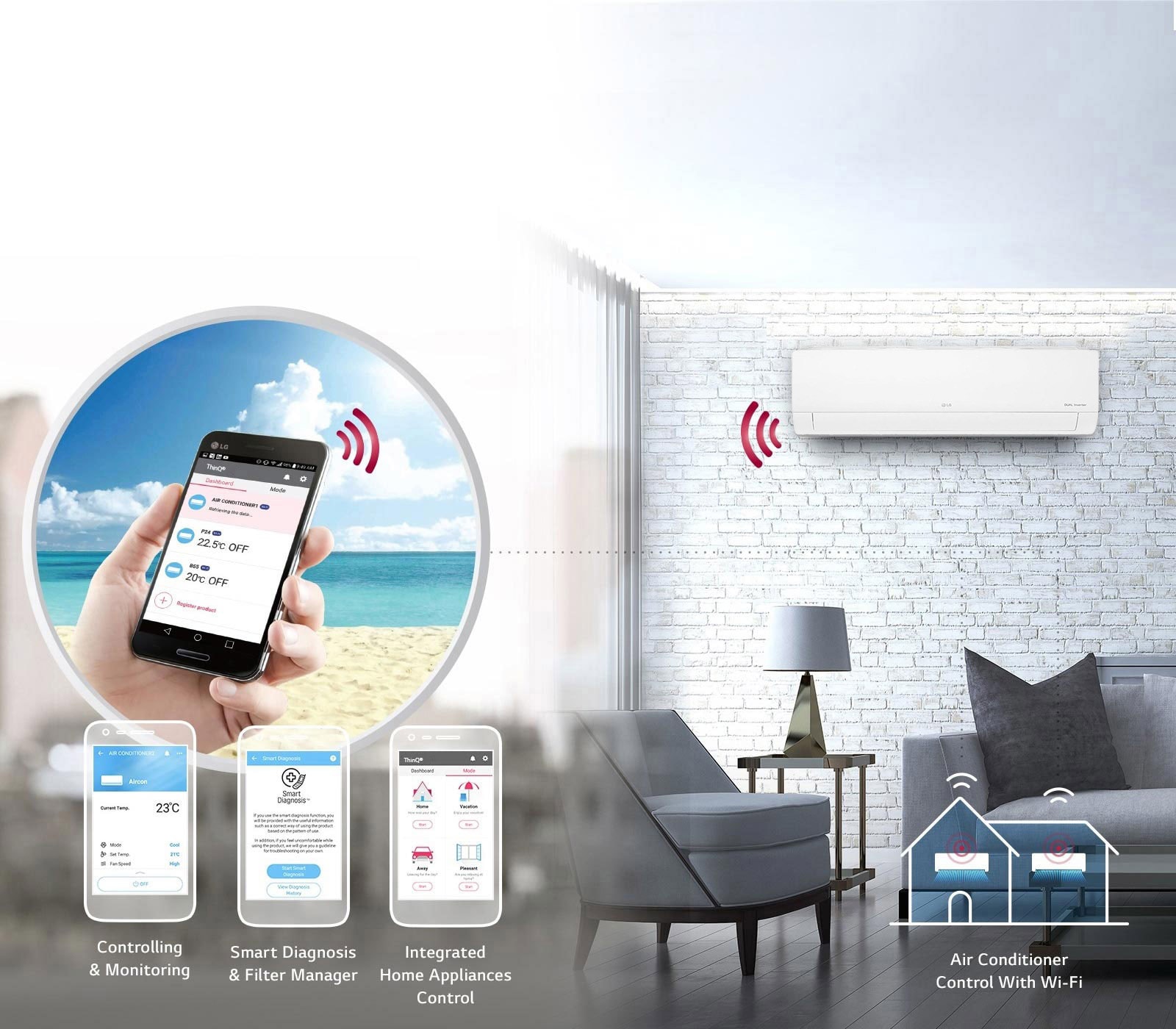 Low Refrigerant Detection
LG Air Conditioner are designed to detect low refrigerant levels which can leave the room hot & uncomfortable. 
Simple and Slim Design with Hidden Display
LG air conditioner's slim and modern design makes easy installation and convenient cleaning with EZ sliding filter. Moreover large hidden display is perfect for checking your energy display conveniently. 
Low Noise
LG air conditioners operate at low sound levels, thanks to LG's unique skew fan and Dual Inverter Compressor™ which eliminate unnecessary noise and allow for smooth operation. 
Quick and Easy Installation
LG air conditioners are designed for easier and more efficient installation, regardless of the surroundings and the number of persons involved in the installation process. By reducing the manpower and time required for installation, it is now possible to install more air conditioners at more homes in a shorter period of time. 
| | |
| --- | --- |
| Capacity | 24,000 BTU |
| Cooling | 6,200 W |
| Compressor | Dual Rotary / R-32 |
| Power Supply (Phase/Volatge/Frequency) | 1/220~240/50 Ø/V/Hz |
| Running Current (Cooling) | 2,090 W |
| Color | White |
| Wi-Fi | Yes |
| Type of AC | Single Split Inverter |
| ISEER Value | 3.72 |
| Noise Level (Outdoor) | 56 dB-A(+1) |
| Micro Dust Protection Filter (Single) | Yes |
| Anti-bacterial Filter | Yes |
| Auto Air Swing ( 4 Way/2 Way) | 4-way |
| Dual Inverter | Yes |
| Hi Cool | Yes |
| Monsoon Comfort | Yes |
| Auto Clean | Yes |
| Sleep Mode | Yes |
| Ocean Black Protection | Yes |
| Low Refrigerant Detection | Yes |
| Copper Condenser | Yes |
| Indoor (W X H X D) | 998 X 330 X 210 mm |
| Outdoor (W X H XD) | 870 X 655 X 322 mm |
| Indoor | 11 kg |
| Outdoor | 39 kg |
1 Year Comprehensive Warranty & 10 Year Warranty on Compressor (Applicable only with the service agreement signed from the 2nd year of purchase) click for Service Agreement