About the brand
Warranty Period
12 Month(s)
Select showroom to pickup
Enter store location
Pickup
2 Hour Collection Available at
---
PHILIPS True Wireless Headphone - TAT2206BK
Regular Price Rs.15,999 Special Price Rs.14,999
Easy payment plans available upto 60 months
---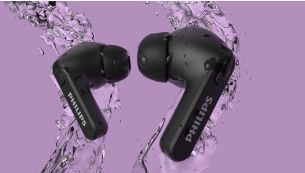 IPX4 splash and sweat resistant
With an IPX4 rating and powerful 6 mm drivers, these headphones let you enjoy great sound in any weather. Fully splash resistant, they won't mind a little sweat and you don't need to worry about getting caught in the rain.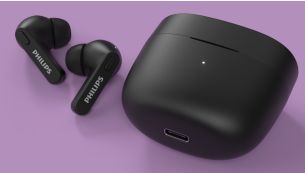 Super-small charging case for up to 12 hours of play time
Hit the road with multiple charges in your pocket. You get up to 6 hours of play time from a single charge, plus 12 extra hours from a fully charged case. A short 15 minute charge in the case gives you an hour of play time. A full charge of the case takes 2 hours via USB-C.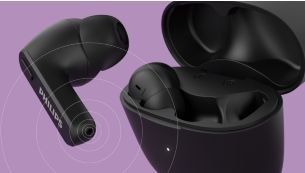 Make calls using a single earbud. Mono mode
Taking a lot of calls? You can double your talk time by using one earbud while the other one charges. The mic is automatically assigned to the earbud you're using, and you can simply swap over when your current earbud is running low on battery.
Secure, comfortable in-ear fit
You get real comfort thanks to soft, interchangeable silicone ear-tip covers. The ear-tips on each earbud insert securely into your ear canal, creating a perfect seal that diminishes external noise. The 'hockey stick' form factor keeps each earbud secure.
Integrated controls. Built-in mic. Easy pairing
Controls on the earbuds let you pause your playlist, take calls, control volume and wake your phone's voice assistant. The headphones are ready to pair the instant you switch on Bluetooth.
| | | |
| --- | --- | --- |
| Sound | Impedance | 16 Ohm |
|   | Speaker diameter | 6 mm |
|   | Sensitivity | 101 dB (1 kHz) |
|   | Frequency range | 20–20,000 Hz |
|   | Maximum power input | 5 mW |
|   | Driver type | Dynamic |
|   | Acoustic system | Open |
| Telecommunication | Microphone for call | 1 mic |
| Connectivity | Bluetooth version | 5 |
|   | Supported codec | SBC |
|   | Maximum range | Up to 10  m |
|   | Bluetooth profiles | AVRCP |
|   |   | HFP |
|   | Microphone | Built-in microphone |
|   | Type of wireless transmission | Bluetooth |
|   | Wireless | Yes |
| Convenience | Water resistance | IPX4 |
|   | Mono mode for TWS | Yes |
|   | Type of controls | Button |
|   | Automatic power off | Yes |
| Design | Colour | Black |
|   | Wearing style | In-ear |
| Power | Music play time | 6 +12  hr |
|   | Talk time | 6 hr |
|   | Battery type (Earbud) | Lithium Polymer (built-in) |
|   | Battery capacity (Earbud) | 55 mAh |
|   | Battery type (Charging case) | Lithium Polymer (built-in) |
|   | Battery capacity (Case) | 350 mAh |
|   | Charging time | 2  hr |
|   | Fast charging time | 15 mins for 1 hr |
|   | Battery life standby time | 200 hr |
|   | Number of batteries | 3 pcs |
|   | Battery weight (Total) | 10.5 g |
|   | Rechargeable | Yes |
| Voice assistant | Voice assistant support | Yes |
|   | Voice assistant activation | Manual |
|   | Voice assistant compatible | Yes |
| Accessories | Charging cable | USB-C cable, 500 mm |
|   | Charging case | yes |
|   | Eartips | 3 pairs (S/M/L) |
|   | Quick start guide | Yes |
| Outer Carton | Number of consumer packages | 24 |
|   | Length | 33.8  cm |
|   | Width | 27.8  cm |
|   | Height | 25  cm |
|   | Gross weight | 4.279  kg |
|   | Net weight | 1.392  kg |
|   | Tare weight | 2.887  kg |
|   | GTIN | 1 48 95229 11740 9 |
| Inner Carton | Number of consumer packages | 3 |
|   | Length | 16  cm |
|   | Width | 13  cm |
|   | Height | 11  cm |
|   | Gross weight | 0.479  kg |
|   | Net weight | 0.174  kg |
|   | Tare weight | 0.305  kg |
|   | GTIN | 2 48 95229 11740 6 |
| Packaging dimensions | Packaging type | Box |
|   | Number of products included | 1 |
|   | Type of shelf placement | Hanging |
|   | Height | 17.2  cm |
|   | Width | 9.5  cm |
|   | Depth | 4  cm |
|   | Gross weight | 0.13  kg |
|   | Net weight | 0.058  kg |
|   | Tare weight | 0.072  kg |
|   | EAN | 48 95229 11740 2 |
| Product dimensions | Height | 4.57  cm |
|   | Width | 5.7  cm |
|   | Depth | 3.1  cm |
|   | Weight | 0.037  kg |
| UPC | UPC | 8 40063 20180 4 |